Fraser Commons Liquor Co.
CLIENT
Fraser Commons Liquor Co.
SERVICES
E-Commerce development
Digital Marketing
ENVIRONMENT
Shopify
Google Ads
Social Media
The Fraser Commons Liquor Co. is a speciality liquor store located in the Fraser Commons development, the centre of a rejuvenating neighbourhood in South Vancouver.
We designed and developed an online store to compliment the store's top quality product lines giving customers an improved online experience.
Fraser Commons Liquor Co. was needing a brochure website and an online store which could be seamlessly integrated with the POS & Inventory system being used within the store. Amongst other requirements, they wanted capabilities for Customer Profiling Tools & Delivery Service integrations. Lastly, they wanted to make sure that the entire system could be easily operated by the Fraser Commons management & staff.
We recommended the full suite of Shopify products, including the Shopify POS system. This keeps the sales and inventory management all in a single platform. The site's development was heavily focused on mobile use as we expected a vast majority of the visitors to be online shoppers quickly looking for products on their phones. Another emphasis was placed on strong SEO to capitalize on strategic search terms.
As this was a brand new business, we had the opportunity to work with a clean slate. Our design was largely focused on simplicity of sales; specifically ensuring customers can quickly find their favourite products and checkout, especially on their phone. 
Business requirements included POS and Inventory management integration, along with simplicity of use for the businesses staff. For this reason, we developed the store on Shopify as the Shopify POS and Stocky inventory management system did not require multiple 3rd party program integration.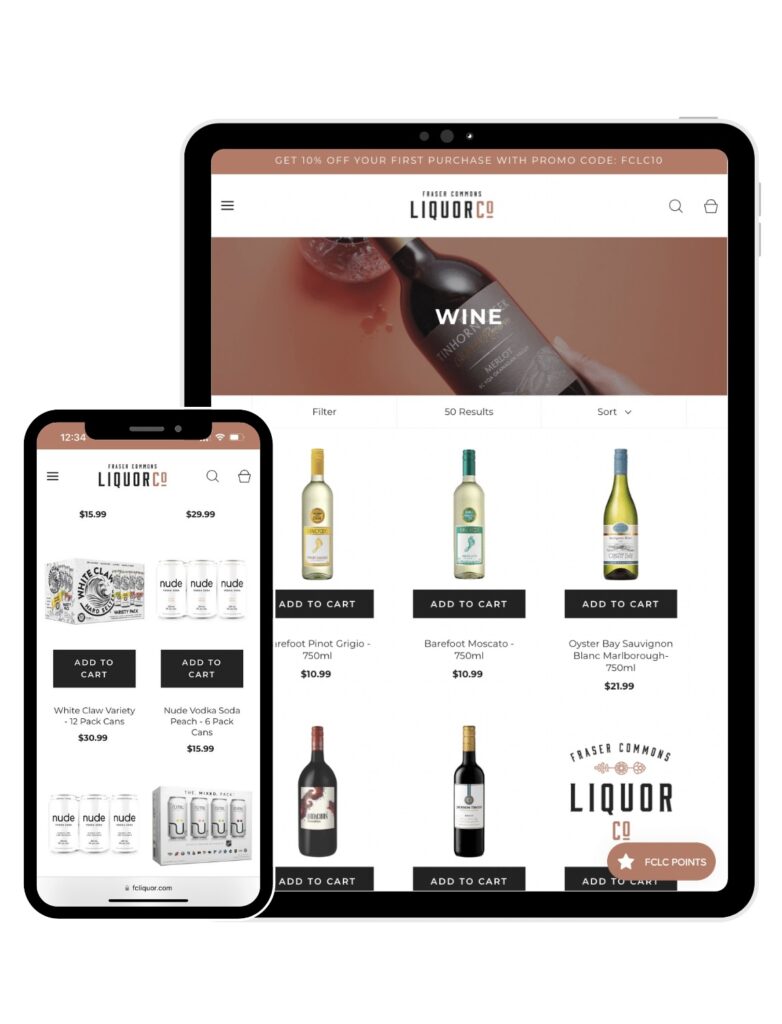 Fraser Commons Liquor Co. has a very large inventory, with several thousand items available for sale, so organization of the products was essential. Our goal was to re-create the in-store experience with products falling into categories such as Country, Region, Type & Style. This filtering system is found throughout the site.
We created each Product in their inventory including images, writing SEO friendly descriptions, incorporating appropriate meta-data and image tags.
​Setting up the correct navigation structure, linking of similar or like-minded products and creating Product Collections makes the store ultimately easy to navigate for both customers and the business managers.
Point of Sale, Customer & Inventory Management Integration
While development of the store's inventory was underway, we simultaneously integrated the Shopify Point of Sale system. Overseeing the purchase of hardware, installation of check-out stations and development of the Customer Management profiling system was next.

Integration of Shopify's Stocky Inventory Management system was also undertaken, allowing for management to coordinate their Purchase Orders, visualize stock levels and better understand sales trends.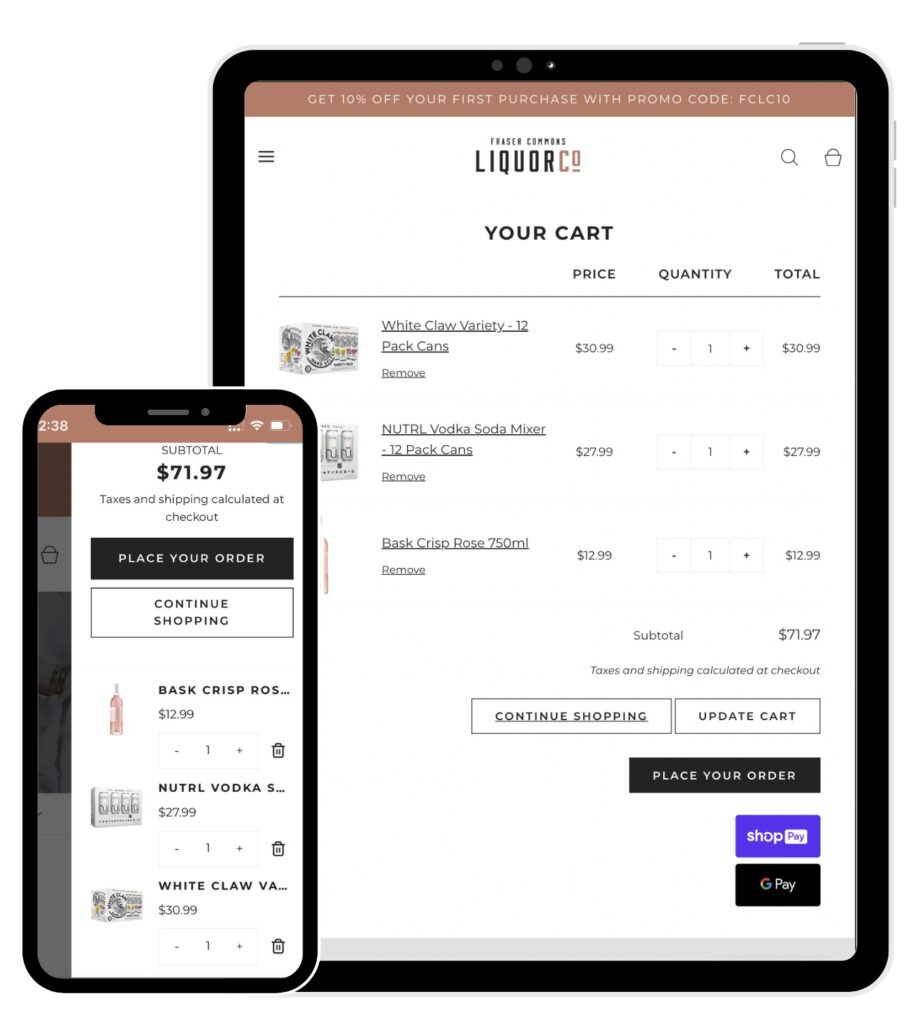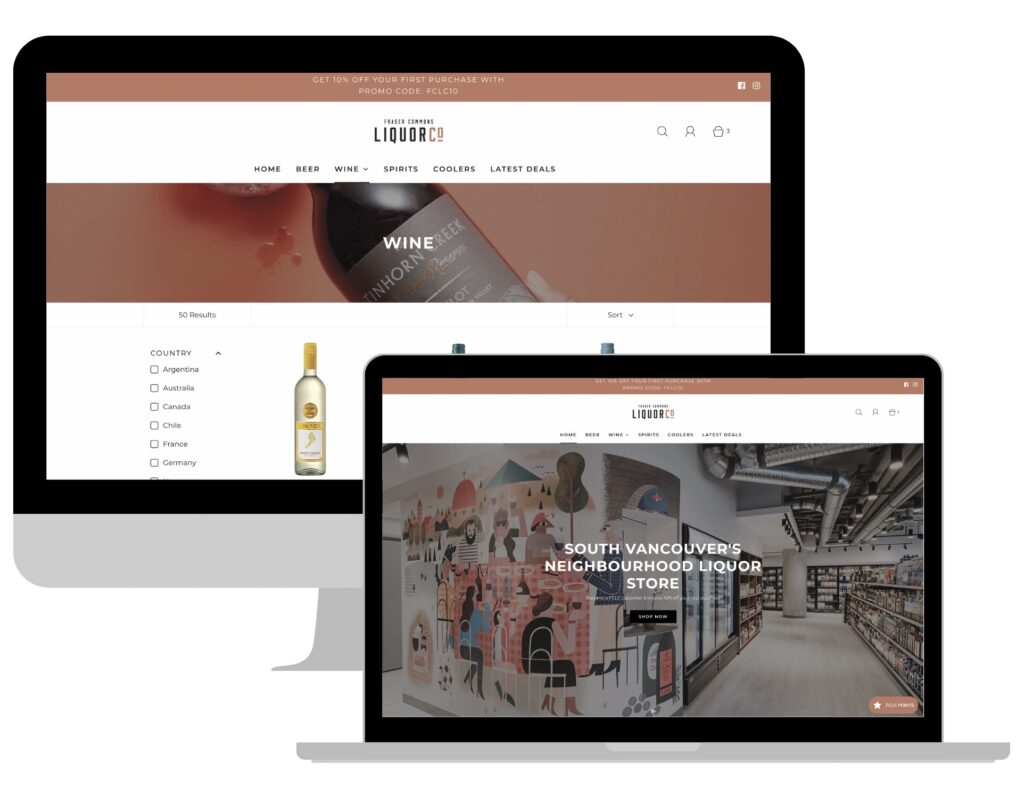 Prior to the official launch of the online store for Fraser Commons Liquor Co. trained their staff with the the operation of the website, inventory managements system, and point of sale.
Additional services included setting up taxes and deposits, in-store pick-up coordination details & search engine optimization details..
Start your online store development
Are you ready to develop an e-commerce platform for your business?